Thu., Mar. 4, 2010 2:15 PM PST by Ted Casablanca and Taryn Ryder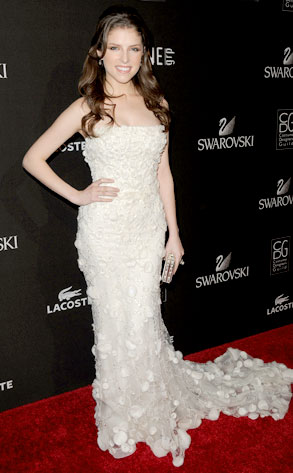 Jordan Strauss/Getty Images
Anna Kendrick was getting her beauty primp on (like she needs it) yesterday at the Beverly Wilshire Hotel. Except, unlike Sarah Palin, this babe was all class as she hung at the gifting suite.
The best supporting actress nom certainly has a lot to be happy about right now, as she couldn't stop grinning at the pre-Oscar event.
The Up In the Air and Twilight darling was all smiles while she posed with fans throughout the evening and gushed about how flattered she was just to be nominated—a safe and familiar refrain. The kicker here is A.K. is so down-to-earth we totally believe her.
Anna, rocking a fierce white peacoat type dress, filled us in a bit on what her Sunday is going to be like as the now-hot actress makes her first debut at the Academy Awards…
You've already been to every awards show this season—Globes, Critics, SAG Awards—are you doing anything different to prepare for Sunday?
I pushed my hair and makeup and everything forward an hour so I would just have a buffer of time to freak out, where I won't have anyone touching me.
Smart move. Are you going to be talking with George Clooney, who is quite Oscar experienced, or the rest of the Up in the Air crew before you hit the carpet? Or do you need them out of your head before such a big night?
I don't know yet! I think we're all kind of…at this point we're so used to doing it as a team and together. It's easier to at least know what to expect because we're all going to be there for each other.
Such a cutie! Best of luck to Anna, George and the whole gang. While odds may be on Mo'Nique to win, don't count Anna Kendrick out—yet.
More on that in the ayem, promise.
Regardless, we have a hunch there are going to be a few more nominations in A.K.'s future. Perhaps presenter Kristen Stewart will be in the crowd with her one of these days? Oh, hell, just go ahead and count on it, babes.
Read more: http://www.eonline.com/uberblog/the_awful_truth/b170172_how_anna_kendrick_will_handle_oscar.html?sid=twitterfeed_awful&utm_source=eonline&utm_medium=twitterfeed&utm_campaign=twitterfeed_awful#ixzz0plnNPWjr