Tue., Feb. 2, 2010 10:19 AM PST by Breanne L. Heldman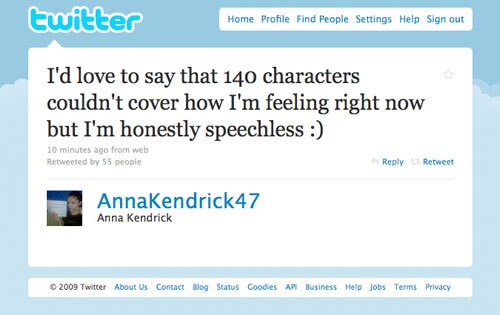 Twitter
We probably wouldn't have been able to come up with the right words a few months ago if you told us a New Mooner was going to be nominated for an Academy Award. We would have been wrong, of course, and now it's Anna Kendrick's turn to grasp for a few syllables.
"I'd love to say that 140 characters couldn't cover how I'm feeling right now but I'm honestly speechless :)," she wrote on Twitter after receiving a nod for Best Supporting Actress for her role in Up in the Air.
Of course, she's not the only celeb to tweet her reactions to this morning's announcements. Some are congratulating their pals, some are cracking jokes and one director is going off!
"So the Academy Award noms are announced, and once again, I'm sickened. Where the f— is ORPHAN?! Why does Oscar hate killer Russian midgets?," Kevin Smith writes. "True originality is NOT rewarded."
Of course, the snub isn't the only thing the Clerks king has to moan about.
"With ten slots, the Best Picture Nominations list is longer than my d–k! Sadly, said list was longer than my d–k at five slots as well," he grumbles. "Ten f—ing slots for Best Picture, and not a-one of 'em for JJ's STAR TREK? That list can't have TWO giant sci-fi movies on it?"
After several deep breaths and a fistful of RTs, Smith joins the congratulatory realm.
"Congrats to Tom Meyers for his UP sound editing nod! (Tom's mixed all our flicks from DOGMA to ZACK)," he adds.
Whew! Here come more happy thoughts…
"Congratulations to all you Basterds!! 8 nominations – it's unreal. Thanks for all your messages, I'm so happy for Quentin & the team," cheers fellow Inglourious one Eli Roth.
Several stars stepped onto Team Precious with their happy tweets.
"Congrats to Monique, Gabbi, Lee Daniels and Precious for getting Oscar nominations," writes Nick Cannon.
"SHOUTOUT to PRECIOUS, LEE DANIELS, MO'NIQUE & GABBY on their Oscar nominations! It's great when excellence gets rewarded," Star Jones says. "Special Sisterly Shoutout to the amazing Meryl Streep…who is BRILLIANT every time she hits the screen! Consistent Excellence!"
Ugly Betty's Michael Urie kept it simple—"Yay District 9!"—while Rainn Wilson and Josh Malina brought the funny.
"Congrats to The Blind Side on it's best picture nomination. Blindness is a devastating handicap and the real story needs to be told," Wilson joked, adding later, "Apologies 2 the blind who were offended by my last tweet. The Blind Side is actually abt the dangers of highway driving & rear view mirrors."
"If I had to see another film by a fashion designer, I'd watch Wendy Pepper's home movies before I suffered through A SINGLE MAN again," Malina bashed.
Read more: http://www.eonline.com/uberblog/b165168_anna_kendrick_speechless_not_twitless.html#ixzz0plw9IvoU