Mon., Nov. 16, 2009 2:05 PM PST by Breanne L. Heldman
Kimberley French/Summit Entertainment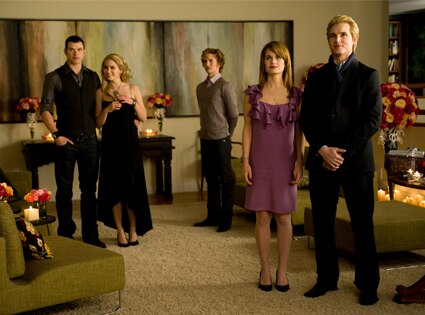 Something tells us you already know all too well that the New Moon premiere is tonight. That's not news.
But what you don't know is how its stars are spending their days preparing for the big event.
They're on Twitter, of course!
"Many people wonder what celebs do the morning of their movie premiere," Peter Facinelli writes. "I would like know 2, seeing how I'm at the DMV renewing my license."
Once he was ready to drive, he cruised by the scene of the big red carpet event.
"Drove past the Westwood theatre on my motorcycle to wave hi to the fans on the way home from DMV. You guys are awesome," he gushes.
Anna Kendrick and Jackson Rathbone are playing a bit more coy with their anticipation, and Rachelle Lefevre sounds like she may have other plans….
"There's *something* I'm supposed to do tonight," human castmember Kendrick says. "I've laid out a dress and ear plugs…but why…"
"Twittering from a dream. Haha, kidding. I'm not sleeping. There's too much work to be done (:," Rathbone writes. "Premier today? I rhink so."
For Christian Serratos, it's all about the fans: "Big thanks to all the fans for braving the cold weather for the premier tonight!"
Gil Birmingham, better known as Billy Black, will be there, but he might not be walkin' so well.
"Everyone excited about the premiere? Hoping I don't trip down the red carpet," he jokes. "Injured my hamstring working out…may be hobbling a bit :)."
Lefevre may be having health issues of her own, and not because she won't be returning to the series for Eclipse. Even if she is planning to go tonight (is she?), her pal or pet may keep her from donning a dress.
"Honey is in the hospital and I don't know what's going to happen. I wonder if you can die from a broken heart," she writes.
Who else will be there?
Glee's Lea Michele and Dancing With the Stars beauty Julianne Hough, for starters!
"On my way to a luncheon with @ijennaush:) then home to get ready for the New Moon premiere!!!!" the former Broadway baby brags.
"In LA headed to a meeting and then…So excited for this one, you ready??? Going to the New Moon premiere," the country crooner crows. She also says she prefers "Edward all the way!"
Apparently, Stephanie Pratt is as big a fanggirl as any of us, and from the sounds of it, she won't be stepping and repeating tonight, but she may be there nonetheless.
"Should I wear my Team Edward shirt + meet the die-hard Twilight fans in westwood + put pics on my website," she asks.
Can we be a fly on her shoulder when she does it?!
Read more: http://www.eonline.com/uberblog/b153965_new_moonies_just_excited_you_are.html#ixzz0soUBR4lq