Thursday, November 26 2009, 9:23am EST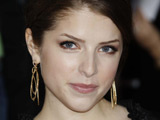 Rex Features
Twilight star Anna Kendrick has recounted her most memorable experience with a fan of the franchise.
The actress, who plays student Jessica, told Entertainment Weekly that she was once approached by a girl who had a gift for co-star Taylor Lautner (Jacob Black).
"[She] came up to me in a store and asked me to give something to Taylor the next time that I saw him," she explained.
"I just said I wasn't sure the next time I would see him, so I didn't want to take it… She said it as though she had it with her, as if she carried it around just in case she ran into a Twilight cast member on the street."
She added: "I was a little too nervous to take it, but I still wonder what it was!"
Kendrick can be seen in The Twilight Saga: New Moon and alongside George Clooney in Up In The Air, which opens next month.