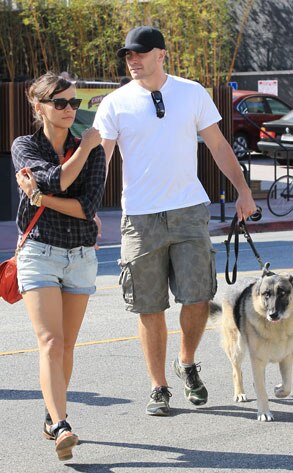 Tue., Sep. 6, 2011 8:22 AM PDT by
Gina Serpe
How did you spend the long holiday weekend? If the answer isn't, "By getting cozy with not one but two of Hollywood's hottest starlets and in doing so, sparking tabloid speculation and rumors of romantic liaisons with at least one of them," then you had a less exciting weekend than Jake Gyllenhaal.
As it happens, the actor expanded his own personal social network over the weekend, publicly stepping out with both Rashida Jones and Anna Kendrick. But which, if either, is he more than platonic with?
Well, for now, we don't know. But we do know that he certainly likes surrounding himself with some of the hottest gals in the biz—his relationships, however fleeting, with Taylor Swift, Reese Witherspoon and Kirsten Dunst are proof of that.
So, first up among his possible paramours (and possible pals) over the weekend was the Parks and Recreation star, who Jake joined (along with his pooch, Atticus) at Los Angeles' Café Gratitude on Sunday. The duo was spotted laughing and leisurely lunching with a group of three friends at the healthy joint, though Jake and Rashida left together.
MORE: Is Taylor Swift a mini Reese Witherspoon?

Which means it was quite a busy weekend for Jake.
Just yesterday, he flew to Las Vegas for a quickie, one-day Labor Day trip with his current End of Watch costar Anna, though they were also joined by a few friends. They were spotted again in Los Angeles last night, grabbing some Starbucks and Subway (glamorous combo), where Jake pulled his—at minimum—costar in for a big old hug, walking away from the fast food chain with his arm around the actress.
So, PDA or just tactile friends? The pictures may not tell just yet, but time surely will.